Enclosed Indoor/Outdoor Bulletin Board, 48"H x 96"W, 3 Doors, Satin Aluminum Frame, Ebony Vinyl Surface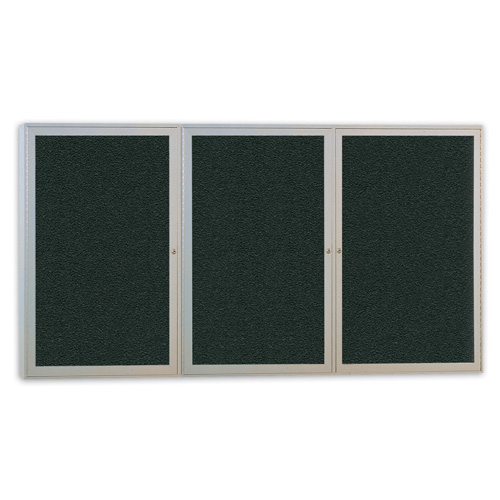 This locking aluminum bulletin board comes in 2 finishes, multiple vinyl colors, & comes with available lighting & heading features. Make your notices pop with a back splash of color.
Reg. $692.99
Sale: $623.69
Sale Ends: 12/31/17
List Price:

$1,425.00
You Save:

$732.01 (51%)
Customer Reviews:
Be the first to review this product.


Write a Review »
Have Questions?

This
Enclosed Bulletin Boards
protects and displays your important information and documents for all the world to see. The lockable hinged doors feature shatter-resistant acrylic to keep your display clean, secure, and undisturbed. In addition, the resilient vinyl posting surface self-heals from pin and tack holes.
THIS PRODUCT IS NON-RETURNABLE/NON-REFUNDABLE
Exterior case depth: 2-1/4".
Interior case depth is 7/8".
Acrylic Glass Thickness: 1/8".
Self supporting doors with continuous hinges.
Tumble locks with keys.
Vinyl PremaTak surface retains resiliency and features a fabric backing for added durability.
6" high white header panel with lighting
Standard lettering on header is in uppercase, helvetica-style black font and is sized and centered depending on requested name
Lighting system includes U.L. Listed fluorescent fixture, bulb, and a three wire electrical lead
Available in many different Frame Finishes .
Dimensions: Exterior - (Interior Space):

24"H x 18"W (22-5/8"H x 16-5/8"W)
36"H x 24"W (34-5/8"H x 22-5/8"W)
36"H x 30"W (34-5/8"H x 28-5/8"W)
36"H x 36"W (34-5/8"H x 34-5/8"W)
36"H x 48"W (34-5/8"H x 46-5/8"W)
36"H x 60"W (34-5/8"H x 58-5/8"W)
48"H x 60"W (46-5/8"H x 58-5/8"W)
36"H x 72"W (34-5/8"H x 70-5/8"W)
48"H x 72"W (46-5/8"H x 70-5/8"W)
48"H x 96"W (46-5/8"H x 94-5/8"W)
You May Also Like