Metal Folding Chairs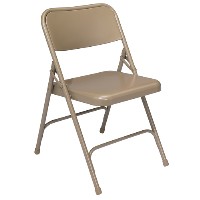 View Item
Premium All-Steel Folding Chairs
From:
$16.99
Metal Folding Chairs
Metal Folding Chairs
are a simple way to expand seating options in any venue. Whether you're outside, inside, rain, or shine, a Metal Folding Seat will handle it all. There are plenty of colors to choose from so you can show your school pride, team pride, or country pride!If you're throwing some of the best barbecues, you'll need plenty of
Seating
while you take on the role of
Grillmaster
! Arrange the Metal Folding Chairs at your
Picnic Tables
or
Plastic Folding Tables
and you'll have plenty of seats for anyone that stops by! Use the Metal Folding Chairs at the next Town Hall Meeting or Graduation event in town!Folding Chairs are easily stored away on
Chair Dollies
when not in use. No longer will you have to struggle as you carry three or four Chairs at a time by hand! Choose from
Black Metal Folding Chairs
, Blue Chairs, Pink Chairs, or neutrals, like white, off-white, beige, and brown. Rounded Back Metal Folding Chairs and Square Back Metal Folding Chairs are sturdy, simple and can be decorated all you want for each event you hold! Try a Fan Back Metal Chair with cut out designs for sophisticated, cooler seating.Metal Folding Chairs are easy on the budget, easy set up, seating expansion options!