Changing Tables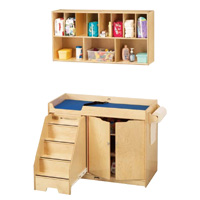 View Item
Changing Table with Stairs
From:
$766.99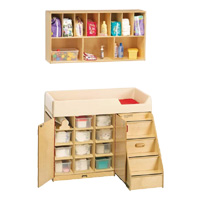 View Item
Diaper Changer
From:
$230.99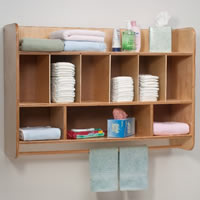 View Item
Hanging Diaper Storage
$166.99

View Item
Rainbow Accents™ Diaper Changer
From:
$239.99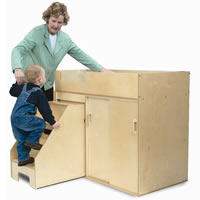 View Item
Toddler Changing Cabinet
$540.99
Changing Tables
Early childhood classrooms all need a good and sturdy changing table with storage. Whether you choose a changing table pad, changing table wedge, or a changing table liner, children will be clean, sanitary, and comfortably changed. Store the disposable changing pads or disposable table liners in a
Cubby Bin
behind sliding doors for out of sight convenience. Using a changing station organizer to keep track of all the diapers and wipes you need come in several easy to reach varieties, including overhead changing table storage and hanging storage. If youíre changing toddlers, allow them to use the changing table with
Stairs
to get up to the changing table topper independently! If youíre doing a quick change, try a wall mounted changing table for restrooms or the
Restroom Wall Seat
.Donít break a sweat when changing diapers anymore. Youíll have everything within reach and neatly organized in any of these classroom changing tables!