Checkout Processing Issue
Credit card processing is having technical difficulties, this will be resolved shortly. Please call customer service at 800-791-2946 to place any orders. We are sorry for the inconvenience.
Projector Carts & Stands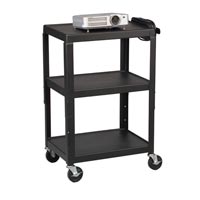 View Item
Adjustable Utility Cart
$220.87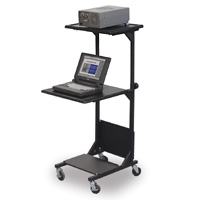 View Item
PBL AV Cart
$172.63

Projector Carts & Stands
Pictures and other visual cues tend to stick with an audience longer than just a speech. Make your speech or presentation memorable by using audio visual equipment, like
Projectors
.These Projector Carts with locking cabinets and pop-up shelves make it easy to have a place to rest
Audio Visual Equipment
during a presentation. Simply wheel the Mobile Projection Cart or Folding Projector Stand up to a
Projection Screen
or
ProjectionPlus Whiteboard
to have a visually stimulating presentation that is sure to wow everyone.Browse through all of the AV Equipment that will bring your presentation to a new level, like the
Wireless Presenters
and
Laser Pointers
to see how to become the next sought out speaker. Projector Carts with outlets keep tripping hazards down and power levels up. Choose from a wide range of
Presentation Carts
and Projector Stands to find the right fit for you.