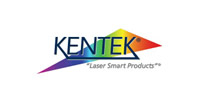 Kentek Products
Best Kentek Online Retailer
The KENTEK CORPORATION has been a full-service laser company since 1983.

Our three divisions, Laser Safety Products, Laser Components , and Laser Accessories, offer a complete range of laser products, services, and accessories.

Our SAFETY staff is fully versed in laser safety requirements and can provide you with filter glass, polycarbonate (standard) and prescription protective eyewear, laser containment systems, patented EVER-GUARD® metal portable barriers, viewing windows and warning signs to meet OSHA and ANSI regulations.

In the COMPONENTS division, we design and manufacture pump chambers, resonators and custom laser cavity assemblies for use by OEMs, industrial facilities, and research facilities. We also manufacture class 1 and class 4 laser work enclosures.

Standard laser head components for CW and pulsed flash lamp pumped commercial laser equipment can be acquired through our REPLACEMENT PARTS division.