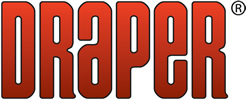 Draper Products
Best Draper Online Retailer
Draper Inc. is headquartered in Spiceland, Indiana, a village of 800 people located 40 miles east of Indianapolis, Indiana.

The company was founded by Luther O. Draper in 1902 to manufacture window shades for schools, and that was Draper's primary product for the next 60 years.

Draper manufactured products closely related to projection screens include rear projection display systems, video projector mounts and lifts, plasma display mounts and lifts, and presentation easels.

In 1989 Draper introduced FlexShade Systems, a second line of window shades designed for the commercial market. In 1994 Draper entered the gymnasium equipment market.

Today, the company's gymnasium equipment products include basketball backstops, gym dividers, wall pads, volleyball equipment, batting cages and wrestling mat hoists.

The company is owned and managed by the descendants of Luther O. Draper and has enjoyed steady growth for the past 111 years.

Draper products are shipped to dealers throughout the United States and more than 100 foreign countries.