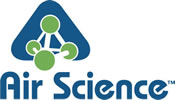 Air Science Products
Best Air Science Online Retailer
Air Science® manufactures a complete series of high efficiency products designed to protect the user, the process and the environment from hazardous vapors, fumes, and particulates.

Our products and manufacturing processes are designed to minimize environmental impact to our community, and to support our customers in efforts to comply with LEED and other recommended practices in laboratory and facility management.

Located in Fort Myers, Florida, USA our new 45,000 square-foot, state-of-the-art manufacturing facility and corporate headquarters houses an integrated sales administration, research, engineering, testing, production, technical service and logistics group working on behalf of our customers worldwide..