Aarco Products, Inc. Pedestal Letter Boards

View Item
Single Pedestal Letter Boards
From:
$93.99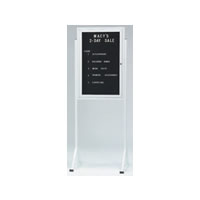 View Item
Jumbo Double Pedestal Letter Boards
From:
$406.99
Aarco Products, Inc. Pedestal Letter Boards
Display your messages on a pedestal letter board up where they belong. Pedestal letter board signs make a perfect addition to any venue! We carry several single pedestal board options, including an adjustable pedestal letter board, some of the dry erase pedestal board signs, and handicap parking sign posts. Double pedestal letter boards and double pedestal dry erase signs are also available! We have all of the pedestal signs you will need! US Markerboard's selection of pedestal letter boards with letters available, should be just what you need to bring your semi-permanent messages to new heights!