Royal Industries, Inc. Mixing Bowls

View Item
Heavy Duty Stainless Steel Mixing Bowls
From:
$1.99

View Item
Standard Stainless Steel Mixing Bowls
From:
$0.99

View Item
Wood Chop Bowls
From:
$48.99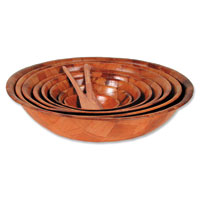 View Item
Woven Wood Bowls
From:
$0.99
Royal Industries, Inc. Mixing Bowls
Our Mixing Bowls come in different shapes and sizes for different portions of mixed ingredients with varying consistencies. These bowls feature sturdy designs with flat bottoms for stable mixing, fewer countertop messes, and optimal food texture. Choose from natural wood and stainless steel bowls to match your kitchen decor and ingredients.