VIRCO Library Tables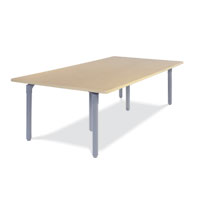 View Item
Plateau® Extra Large Library Table - 48"W x 96"L
From:
$979.99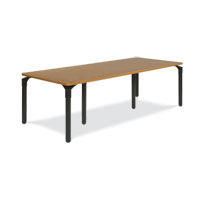 View Item
Plateau® Library Table - 36"W x 90"L
From:
$889.99
VIRCO Library Tables
Our Library Tables don't bend or break when it comes to handling piles of heavy books day after day. Library Tables are great for any library or research area that has scholars, researchers, writers, and readers.From the Library Circulation Desk, you can keep an eye on all of those scholars going through your books while they sit at the Library Tables and Chairs in comfortable seating. Go around and gather up their unwanted materials onto your Book Cart that makes it easy to carry many books at once from place to place.Did you know our Library Tables with Grommet Holes make it easy for everyone to plug in their laptops and other electronics without making a mess and knocking things over? These Tables with Casters also move around easily when itís time to rearrange the room or make space for a mock Shakespeare play to begin.These Library Tables are great for big city public libraries or small offices where people are cataloguing. GREENGUARD certified tables are just one more Eco-Friendly piece of furniture to help you do your part in keeping the Earth green.Comfortable to work at. Easy-to-move. Earth Friendly. Heavy duty. Strong and durable. Several colors to choose from. What else could you possibly need in a Library Table? Get yours today!