Luxor A/V and Multi-Media Carts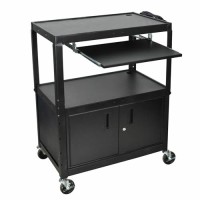 View Item
Extra Large AV Carts
From:
$163.99

View Item
Steel Adjustable Height Av Carts
From:
$79.99
Luxor A/V and Multi-Media Carts
When you need to store and transport so much more than just one type of electronic device, A/V and Multimedia Carts should be your go-to product. Whether you need to transport or store presentation equipment or DVDs, this selection of A/V Carts will not disappoint. This collection of Carts comes in woods or metals and all sizes and capabilities depending on your individual needs.Projectors finally have a place to go, making it more convenient to use whenever you need it. Additional power strips and timers are a must for ease of mind when leaving electronics charging overnight. All of our Carts are easy to maneuver and can be rolled out of the way when not in use.These carts are perfect for classrooms, lecture halls, and business offices. If you need to make presentations, you need a reliable method of transportation and storage.