Swingline TAA Compliant Commercial Shredders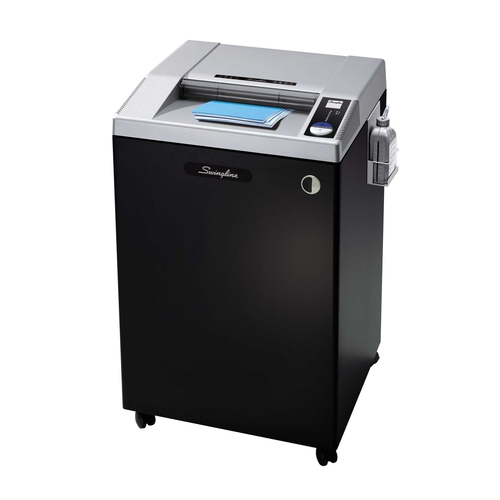 Customer Reviews:
Be the first to review this product.


Write a Review »
Have Questions?

Swingline TAA Compliant Commercial Shredders can power through more sheets at a time without sacrificing reliability. Protects against information theft, runs quietly and stands up to heavy use environments. TAA Compliant with Jam-Stopper technology this shredder is perfect for commercial environments. The following shredders have a 16" wide paper entry that accepts legal paper sideways for fast feeding: CX40-59 Cross-Cut, CX30-55 Cross-Cut, CS50-59 Strip Cut, CS39-55 Strip-Cut, CM11-44 Micro-Cut and Cs25-44 Strip-Cut. The Cx22-44 Cross-Cut has a 15"W paper entry while the CX25-36 Cross-Cut and CS30-36 Strip-Cut have a 12"W paper entry and the CHS10-30 Level 6 High Security and CM15-30 Micro-Cut have a 10"W paper entry.
TAA Compliant; Made in Germany
Jam-Stopper detects shredder jams and automatically reverses excess papers; lights indicate if paper capacity is exceeded
Continuous duty run time
Accepts staples, paper clips, credit cards and CDs
SelfOil feature delivers peak performance and extends cutter life
CX40-59 Cross-Cut Shredder:

40-sheet cross-cut shredder meets moderate security needs (Level 3)
Extra large 59-gallon waste bin for longer shred times without emptying bin
Warranty: 2 years machine, lifetime cutters, 2-year on-site service included
Dimensions: 23"L x 25"W x 40"H

CX30-55 Cross-Cut Shredder:

30-sheet cross-cut shredder meets moderate security needs (Level 3)
Extra large 55-gallon waste bin for longer shred times without emptying bin
Warranty: 2 years machine, lifetime cutters, 2-year on-site service included
Dimensions: 23"L x 25"W x 38"H

CS50-59 Strip-Cut Shredder:

50-sheet cross-cut shredder meets moderate security needs (Level 3)
Extra large 59-gallon waste bin for longer shred times without emptying bin
Warranty: 2 years machine, lifetime cutters, 2-year on-site service included
Dimensions: 23"L x 25"W x 40"H

CS39-55 Strip-Cut Shredder:

39-sheet cross-cut shredder meets moderate security needs (Level 2)
Extra large 55-gallon waste bin for longer shred times without emptying bin
Warranty: 2 years machine, lifetime cutters, 2-year on-site service included
Dimensions: 23"L x 25"W x 38"H

CM11-44 Micro-Cut Shredder:

11-sheet cross-cut shredder meets moderate security needs (Level 4)
Extra large 44-gallon waste bin for longer shred times without emptying bin
Warranty: 1 year machine and cutters, 1-year on-site service included
Dimensions: 18-1/2"L x 24"W x 37-1/2"H

CX22-44 Cross-Cut Shredder:

22-sheet cross-cut shredder meets moderate security needs (Level 3)
Extra large 44-gallon waste bin for longer shred times without emptying bin
Warranty: 2 years machine, lifetime cutters, 2-year on-site service included
Dimensions: 18-1/2"L x 24"W x 37-1/2"H

CS25-44 Strip-Cut Shredder:

25-sheet cross-cut shredder meets moderate security needs (Level 2)
Extra large 44-gallon waste bin for longer shred times without emptying bin
Warranty: 2 years machine, lifetime cutters, 2-year on-site service included
Dimensions: 18-1/2"L x 24"W x 37-1/2"H

CX25-36 Cross-Cut Shredder:

25-sheet cross-cut shredder meets moderate security needs (Level 3)
Large 36-gallon waste bin
Warranty: 2 years machine, lifetime cutters, 2-year on-site service included
Dimensions: 18-1/2"L x 21"W x 36-1/2"H

CS30-36 Strip-Cut Shredder:

30-sheet cross-cut shredder meets moderate security needs (Level 2)
Large 36-gallon waste bin
Warranty: 2 years machine, lifetime cutters, 2-year on-site service included
Dimensions: 23"L x 25"W x 40"H

CHS10-30 Level 6 High Security Shredder:

10-sheet shredder meets top-of-the-line security needs (Level 6)
Large capacity 30-gallon waste bin
Warranty: 1 year machine and cutters, 1 year on-site service included
Dimensions: 18-1/2"L x 19-1/2"W x 36-1/2"H

CM15-30 Micro-Cut Shredder:

15-sheet micro-cut shredder meets high security needs (Level 4)
Large capacity 30-gallon waste bin
Warranty: 1 year machine and cutters, 2 year on-site service included
Dimensions: 18-1/2"L x 19-1/2"W x 36-1/2"H
0
You May Also Like
For your reference:
This item is also sometimes listed under the following manufacturer numbers
1753200, 1753210, 1753230, 1753240, 1753260, 1753270, 1753280, 1753290, 1753300, 1758582, 1758583