Skeletons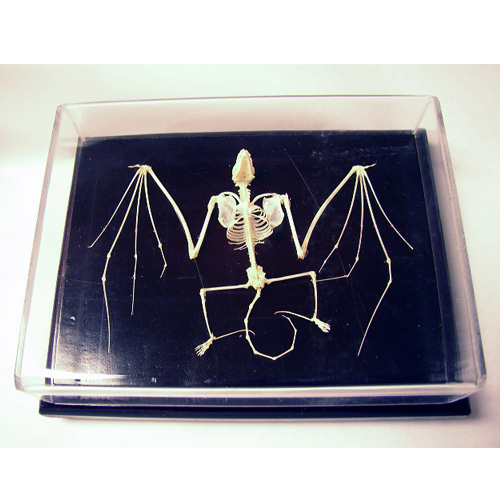 Customer Reviews:
Be the first to review this product.


Write a Review »
Have Questions?

- Or -
These Skeleton Specimens are real animal bones, cleaned and specially treated. Each specimen is articulated in a natural posture and mounted on a finished wooden base with a removable clear acrylic cover. They are individually boxed and are an interesting educational aid or a unique display.
Comparison sets consist of the particular bone structure from a specimen in each of the five classes of vertebrates: Mammal (rabbit), bird (pigeon), reptile (turtle or lizard), amphibian (frog or toad), and fish.
Please note that the factory may substitute alternate species in the same class due to availability. Unmounted or disarticulated skeletons may be special ordered.
Real animal bones, cleaned and specially treated.
Each specimen articulated in a natural posture.
Mounted on a finished wooden base with removable clear acrylic cover.
51001: Fish (Carassius carassius)
51002: Toad (Bufo melanostictus)
51003: Pigeon (Rock Dove) (Columba livia)
51004: Rabbit (Oryctolagus cuniculus)
51005: Turtle (Trachemys scripta)
51006: Poisonous snake (Pallas Pit Viper) (Agkistrodon halys)
51007: Lizard (Skink) (Eumences chinesis)
51008-A: Chicken with chick (Gallus domestica)
51009: Cat (Felis catus)
51010: Bat (Pipistrellus abramus)
51012: Rat (Rattus norvegicus albue)
51016: Non-poisonous snake (Dinodon rufoznatum)
51017: Frog (prone position) (Rana pipiens)
51020: Skull Comparison Set
51021: Front Limb Comparison Set
51022: Hind Limb Comparison Set
51023: Spinal Column Comparison Set
51024: Set of each Comparison Set (Skull, Front Limb, Hind Limb, and Spinal Column)
You May Also Like
For your reference:
This item is also sometimes listed under the following manufacturer numbers
51001, 51002, 51003, 51004, 51005, 51007, 51008-A, 51009, 51010, 51012, 51016, 51017, 51020, 51021, 51022, 51023, 51024