Science Tables with Book Compartments and a ChemGuard™ Top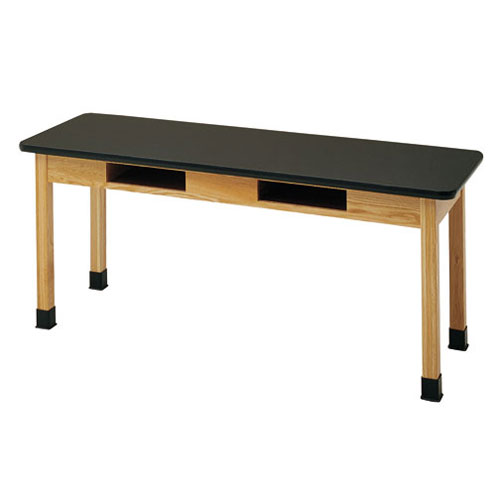 Customer Reviews:
Average Rating

5/5
1 out of 1 (100%) customers would recommend this product.
Have Questions?

- Or -
Our sturdy Science Lab Tables feature roomy compartments for textbooks, notes, supplies, and accessories for experiments. The countertops are made from our very popular ChemGuard material, which features solid all-around resistance to heat, chemicals, and scratches. These tables provide excellent value for your elementary or middle school science classroom, and they offer two or four book compartments, depending on table size.
Book compartments measure 14-1/4"W x 12-3/4"D x 3-7/8"H each.
Available table widths range all the way up to 72"
Standard table height is 30"
Available with 2 or 4 compartments
You May Also Like
For your reference:
This item is also sometimes listed under the following manufacturer numbers
C7102K30N, C7102K34N, C7102K36N, C7102M30N, C7102M34N, C7102M36N, C7112K30L, C7112K34N, C7112K36N, C7122K30N, C7122K34N, C7122K36N, C7132K30N, C7132K34N, C7132K36N, C7142K30N, C7142K34N, C7142K36N, C7142M30N, C7142M34N, C7142M36N, C7152K30N, C7152K34N, C7152K36S, C7152M30N, C7152M34N, C7152M36S, C7162K30N, C7162K34N, C7162K36N, C7172K30N, C7172K34N, C7172K36N, C7182K30N, C7182K34N, C7182K36N, C7192K30N, C7192K34N, C7192K36N, C7202K30N, C7202K34N, C7202K36N, C7202M30N, C7202M34N, C7202M36N, C7212K30N, C7212K34N, C7212K36N, C7222K30N, C7222K34N, C7222K36N, C7232K30N, C7232K34N, C7232K36S, C7242K30N, C7242K34N, C7242K36S, C7302K30N, C7302K34N, C7302K36S, C7302M30N
, C7302M34N, C7302M36S, C7402K30L, C7402K34L, C7402K36S, C7602K30N, C7602K34N, C7602K36N, C7602M30N, C7602M34N, C7602M36N, C7802K30L, C7802K34L, C7802K36L, C7902K30L, C7902K34L, C7902K36L
...
Show All