Sage™ Stacking Chair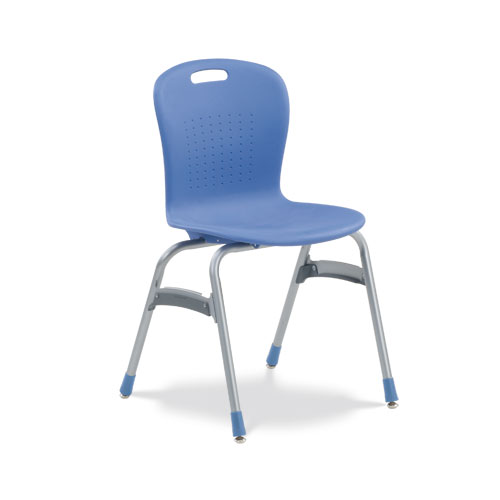 Image May Not Reflect Selected Options
Customer Reviews:
Be the first to review this product.


Write a Review »
Have Questions?

With a generously sculpted chair shell, the Sage Series enables better seating load distribution for less fatigue, greater comfort and enhanced circulation. A flexible, high-profile backrest with raised contours provides a smoother "ride" when leaning back in the chair. Aesthetically, the Sage Series unites understated contours, an elegantly dimpled backrest and a gently rolled perimeter for a balanced sense of style.Sage Series products offer higher level furniture solutions for college, adult education and high school environments.
Available in the standard 18" height and a special 19" height for taller students
Your choice of 3 frame finishes and 12 seat colors
Matching Color glides
Sold in Cartons of 4. Price per Chair.
You May Also Like
For your reference:
This item is also sometimes listed under the following manufacturer numbers
SG418-BLK01-BLK01, SG418-BLK01-BLU40, SG418-BLK01-BLU51, SG418-BLK01-BRN14, SG418-BLK01-GRN12, SG418-BLK01-GRN34, SG418-BLK01-GRN75, SG418-BLK01-GRY41, SG418-BLK01-PUR43, SG418-BLK01-RED50, SG418-BLK01-RED70, SG418-BLK01-YLW47, SG418-CHRM-BLK01, SG418-CHRM-BLU40, SG418-CHRM-BLU51, SG418-CHRM-BRN14, SG418-CHRM-GRN12, SG418-CHRM-GRN34, SG418-CHRM-GRN75, SG418-CHRM-GRY41, SG418-CHRM-PUR43, SG418-CHRM-RED50, SG418-CHRM-RED70, SG418-CHRM-YLW47, SG418-GRY02-BLK01, SG418-GRY02-BLU40, SG418-GRY02-BLU51, SG418-GRY02-BRN14, SG418-GRY02-GRN12, SG418-GRY02-GRN34, SG418-GRY02-GRN75, SG418-GRY02-GRY41, SG418-GRY02-PUR43, SG418-GRY02-RED50, SG418-GRY02-RED70, SG418-GRY02-YLW47, SG419-BLK01-BLK01, SG419-BLK01-BLU40, SG419-BLK01-BLU51, SG419-BLK01-BRN14, SG419-BLK01-GRN12, SG419-BLK01-GRN34, SG419-BLK01-GRN75, SG419-BLK01-GRY41, SG419-BLK01-PUR43, SG419-BLK01-RED50, SG419-BLK01-RED70, SG419-BLK01-YLW47, SG419-CHRM-BLK01, SG419-CHRM-BLU40, SG419-CHRM-BLU51, SG419-CHRM-BRN14, SG419-CHRM-GRN12, SG419-CHRM-GRN34, SG419-CHRM-GRN75, SG419-CHRM-GRY41, SG419-CHRM-PUR43, SG419-CHRM-RED50, SG419-CHRM-RED70, SG419-CHRM-YLW47, SG419-GRY02-BLK01
, SG419-GRY02-BLU40, SG419-GRY02-BLU51, SG419-GRY02-BRN14, SG419-GRY02-GRN12, SG419-GRY02-GRN34, SG419-GRY02-GRN75, SG419-GRY02-GRY41, SG419-GRY02-PUR43, SG419-GRY02-RED50, SG419-GRY02-RED70, SG419-GRY02-YLW47
...
Show All