Premium Royal Inspiration Station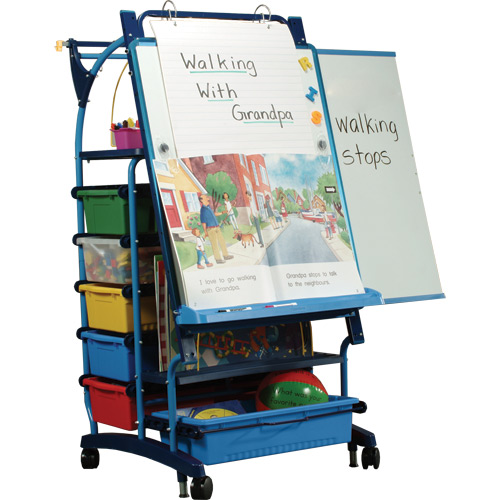 Customer Reviews:
Average Rating

5/5
1 out of 1 (100%) customers would recommend this product.
Have Questions?

Inspired by Teachers to Inspire Learning! Building from the strengths of the Copernicus Royal line, the Royal® Inspiration Station establishes a new standard for teaching easels. Designed in collaboration with educators, it incorporates many innovative features to make teaching easier and more efficient. For various budgets, it is also available in Base and Standard models with the option to upgrade later for maximum classroom storage.
Premium Model Includes:

19 Tubs Total (8 Open, 2 Divided, 8 Tiny, 1 Really Big Tub)

Stubby Tubby Model Includes:

21 Tubs Total (6 Stubby, 4 Open, 2 Divided, 8 Tiny, 1 Really Big Tub)

Both Models Include:

15"W Slide-out markerboard
Removable lined magnetic dry erase board on back (24"L x 36"W)
Tub stop and Foot-activated braking safety systems
Telescoping accessory rod for wide pocket charts
Top shelf with chart paper guides for teacher
Two magnetic Page Paws and two chart paper loop hooks
Four 3" casters

Lifetime frame and tub warranty
Frame: 30"W x 30"D x 61-1/2" to 64-1/2"H
Open Tubs: 15"L x 12"W x 6"H
Large Divided Book Tubs: 15"L x 12"W x 6"H
Really Big Tub: 25"L x 13"W x 6"H
Tiny Tubs: 4-1/2"L x 2-1/2"W x 3-3/4"H
Stubby Tubbys: 12.5"L x 15.75"W x 3"H
You May Also Like