Prairie Guest Chair - Sled Base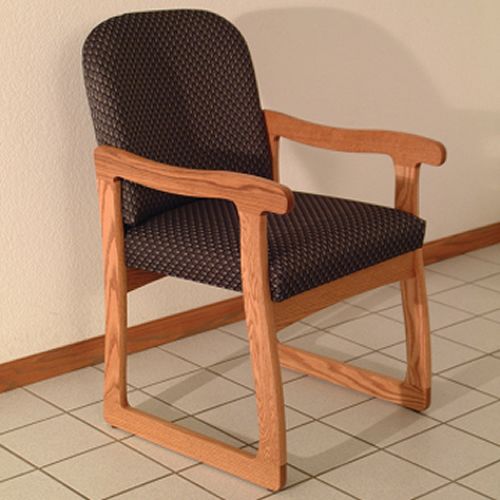 Customer Reviews:
Be the first to review this product.


Write a Review »
Have Questions?

- Or -
Stylish, economical, and comfortable, these chairs and sofas are built to last. They are constructed of one inch thick solid oak with a beautiful, durable, state-of-the-art finish with different fabric styles to choose from.
Chair Info:

Each Seat Dimensions: 19 1/2"W x 16 1/2"D x 19"H
Weight: 27lbs.
Standard Fabric made of 100% olefin with teflon stain repellent finish or antimicrobial vinyls
Weight Capactiy: 400lbs per seat
Made in the USA
You May Also Like
For your reference:
This item is also sometimes listed under the following manufacturer numbers
DW7-1LOVB, DW7-1LOVC, DW7-1LOVG, DW7-1LOVK, DW7-1LOVM, DW7-1LOVW, DW7-1MHVB, DW7-1MHVC, DW7-1MHVG, DW7-1MHVK, DW7-1MHVM, DW7-1MHVW, DW7-1MOVB, DW7-1MOVC, DW7-1MOVG, DW7-1MOVK, DW7-1MOVM, DW7-1MOVW, DW7-2LOVB, DW7-2LOVC, DW7-2LOVG, DW7-2LOVK, DW7-2LOVM, DW7-2LOVW, DW7-2MHVB, DW7-2MHVC, DW7-2MHVG, DW7-2MHVK, DW7-2MHVM, DW7-2MHVW, DW7-2MOVB, DW7-2MOVC, DW7-2MOVG, DW7-2MOVK, DW7-2MOVM, DW7-2MOVW, DW7-3LOVB, DW7-3LOVC, DW7-3LOVG, DW7-3LOVK, DW7-3LOVM, DW7-3LOVW, DW7-3MHVB, DW7-3MHVC, DW7-3MHVG, DW7-3MHVK, DW7-3MHVM, DW7-3MHVW, DW7-3MOVB, DW7-3MOVC, DW7-3MOVG, DW7-3MOVK, DW7-3MOVM, DW7-3MOVW, DW7-4LOVB, DW7-4LOVC, DW7-4LOVG, DW7-4LOVK, DW7-4LOVM, DW7-4LOVW, DW7-4MHVB
, DW7-4MHVC, DW7-4MHVG, DW7-4MHVK, DW7-4MHVM, DW7-4MHVW, DW7-4MOVB, DW7-4MOVC, DW7-4MOVG, DW7-4MOVK, DW7-4MOVM, DW7-4MOVW, DW8-1LOVB, DW8-1LOVC, DW8-1LOVG, DW8-1LOVK, DW8-1LOVM, DW8-1LOVW, DW8-1MHVB, DW8-1MHVC, DW8-1MHVG, DW8-1MHVK, DW8-1MHVM, DW8-1MHVW, DW8-1MOVB, DW8-1MOVC, DW8-1MOVG, DW8-1MOVK, DW8-1MOVM, DW8-1MOVW, DW8-2LOVB, DW8-2LOVC, DW8-2LOVG, DW8-2LOVK, DW8-2LOVM, DW8-2LOVW, DW8-2MHVB, DW8-2MHVC, DW8-2MHVG, DW8-2MHVK, DW8-2MHVM, DW8-2MHVW, DW8-2MOVB, DW8-2MOVC, DW8-2MOVG, DW8-2MOVK, DW8-2MOVM, DW8-2MOVW, DW8-3LOVB, DW8-3LOVC, DW8-3LOVG, DW8-3LOVK, DW8-3LOVM, DW8-3LOVW, DW8-3MHVB, DW8-3MHVC, DW8-3MHVG, DW8-3MHVK, DW8-3MHVM, DW8-3MHVW, DW8-3MOVB, DW8-3MOVC, DW8-3MOVG, DW8-3MOVK, DW8-3MOVM, DW8-3MOVW, DW8-4LOVB, DW8-4LOVC, DW8-4LOVG, DW8-4LOVK, DW8-4LOVM, DW8-4LOVW, DW8-4MHVB, DW8-4MHVC, DW8-4MHVG, DW8-4MHVK, DW8-4MHVM, DW8-4MHVW, DW8-4MOVB, DW8-4MOVC, DW8-4MOVG, DW8-4MOVK, DW8-4MOVM, DW8-4MOVW
...
Show All