Planner Lab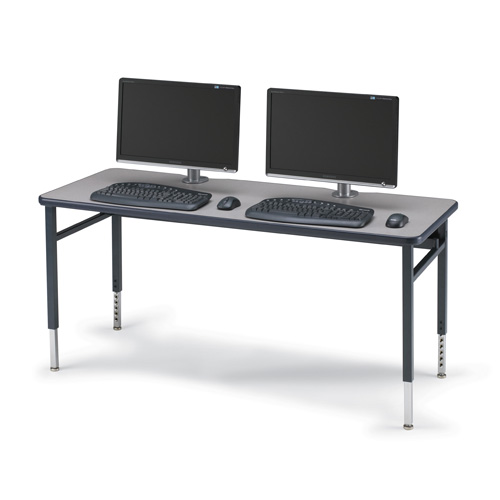 Image May Not Reflect Selected Options
Customer Reviews:
Be the first to review this product.


Write a Review »
Have Questions?

These lab-style desks are built specifically to help optimize the e-learning environment. Solid H-frame construction ensures that these tables can support heavy equipment. Features include adjustable-height legs, a thick bumper edge for safety, a cord cutout at the rear of the work surface that leads to an 8"H x 3"D raceway of 16-gauge steel with cable ports, and a long-lasting, high-pressure laminate surface. Many colors are available to complement any classroom style.
Available in either 24" or 30" deep models.
In addition to the standard single-, two-, or three-student models, a corner model, accommodating one student, is available.
Available in a variety of different color combinations; select top, edge, and frame colors.
Rectangular Riser Shelves available separately.
You May Also Like
For your reference:
This item is also sometimes listed under the following manufacturer numbers
24500-CHE-BL-BL, 24500-GNB-MB-PL, 24500-GNB-NV-NV, 24500-GOK-BL-BL, 24500-MAP-CM-CM, 24510-CHE-BL-BL, 24510-GNB-MB-PL, 24510-GNB-NV-NV, 24510-GOK-BL-BL, 24510-MAP-CM-CM, 24520-CHE-BL-BL, 24520-GNB-MB-PL, 24520-GNB-NV-NV, 24520-GOK-BL-BL, 24520-MAP-CM-CM, 24530-CHE-BL-BL, 24530-GNB-MB-PL, 24530-GNB-NV-NV, 24530-GOK-BL-BL, 24530-MAP-CM-CM, 24540-CHE-BL-BL, 24540-GNB-MB-PL, 24540-GNB-NV-NV, 24540-GOK-BL-BL, 24540-MAP-CM-CM, 24550-CHE-BL-BL, 24550-GNB-MB-PL, 24550-GNB-NV-NV, 24550-GOK-BL-BL, 24550-MAP-CM-CM, 24560-CHE-BL-BL, 24560-GNB-MB-PL, 24560-GNB-NV-NV, 24560-GOK-BL-BL, 24560-MAP-CM-CM, 24570-CHE-BL-BL, 24570-GNB-MB-PL, 24570-GNB-NV-NV, 24570-GOK-BL-BL, 24570-MAP-CM-CM, 24600-CHE-BL-BL, 24600-GNB-MB-PL, 24600-GNB-NV-NV, 24600-GOK-BL-BL, 24600-MAP-CM-CM, 24610-CHE-BL-BL, 24610-GNB-MB-PL, 24610-GNB-NV-NV, 24610-GOK-BL-BL, 24610-MAP-CM-CM, 24620-CHE-BL-BL, 24620-GNB-MB-PL, 24620-GNB-NV-NV, 24620-GOK-BL-BL, 24620-MAP-CM-CM, 24630-CHE-BL-BL, 24630-GNB-MB-PL, 24630-GNB-NV-NV, 24630-GOK-BL-BL, 24630-MAP-CM-CM