Indoor Enclosed Bulletin Boards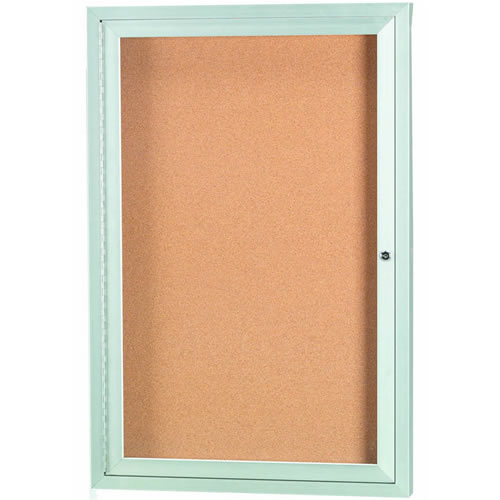 This Enclosed Bulletin Board has several frames to choose from, lighting, headers, & multiple sizes with up to 3 doors available. Protect announcements from the elements with locking doors.
Customer Reviews:
Be the first to review this product.


Write a Review »
Have Questions?

- Or -
Enclosed
Bulletin Boards
consist of a lockable cabinet that protects the messages and announcements you tack on the natural cork posting surface. These message boards come with 1, 2, or 3 doors and feature available lighting to make your postings that much easier to read. Choose from a number of different sizes for your church, school, restaurant, or office and reach a larger audience on a broader level.
Corners are neatly mitered and assembled with heavy-duty reinforcements and fasteners.
Includes lockable doors, acrylic safety glass windows, continuous hinges, concealed mounting brackets, and natural pebble grain cork surfacing.Frames available many finishes in both Aluminum and Wood.
Prices shown cover black lettering in header only, Personalized logo and colors are available at an upcharge
Lighted models feature UL-listed fluorescent fixtures, a light deflector, bulbs and a 3 wire electrical lead
2" Depth
3/4" Inside Depth
You May Also Like
For your reference:
This item is also sometimes listed under the following manufacturer numbers
ECHB218, ECHB218H, ECHB32, ECHB32H, ECHB330, ECHB330H, ECHB34, ECHB34H, ECHB35, ECHB35H, ECHB36, ECHB36-3D, ECHB36H, ECHB36H-3D, ECHB43, ECHB43H, ECHB45, ECHB45H, ECHB46, ECHB46-3D, ECHB46H, ECHB46H-3D, ECHB48-3D, ECHB48H-3D, EOKB218, EOKB218H, EOKB32, EOKB32H, EOKB330, EOKB330H, EOKB34, EOKB34H, EOKB35, EOKB35H, EOKB36, EOKB36-3D, EOKB36H, EOKB36H-3D, EOKB43, EOKB43H, EOKB45, EOKB45H, EOKB46, EOKB46-3D, EOKB46H, EOKB46H-3D, EOKB48-3D, EOKB48H-3D, EWNB218, EWNB218H, EWNB32, EWNB32H, EWNB330, EWNB330H, EWNB34, EWNB34H, EWNB35, EWNB35H, EWNB36, EWNB36-3D, EWNB36H
, EWNB36H-3D, EWNB43, EWNB43H, EWNB45, EWNB45H, EWNB46, EWNB46-3D, EWNB46H, EWNB46H-3D, EWNB48-3D, EWNB48H-3D, IAB218, IAB218I, IAB32, IAB32I, IAB330, IAB330I, IAB34, IAB34I, IAB35, IAB35I, IAB36, IAB36-3D, IAB36I, IAB36I-3D, IAB43, IAB43I, IAB45, IAB45I, IAB46, IAB46-3D, IAB46I, IAB46I-3D, IAB48-3D, IAB48I-3D, IEB218H, IEB218HI, IEB32H, IEB32HI, IEB330H, IEB330HI, IEB34H, IEB34HI, IEB35H, IEB35HI, IEB36H, IEB36H-3D, IEB36HI, IEB36HI-3D, IEB43H, IEB43HI, IEB45H, IEB45HI, IEB46H, IEB46H-3D, IEB46HI, IEB46HI-3D, IEB48H-3D, IEB48HI-3D
...
Show All