Indoor Enclosed Aluminum Changeable Letter Boards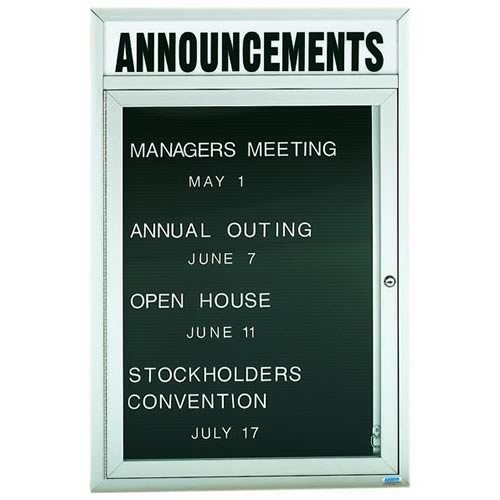 There are plenty of ways to customize this locking bulletin board. Choose from several felt colors, frame choices, & sizes. Add in headings or lighting to really make this board your own.
Customer Reviews:
Average Rating

5/5
1 out of 1 (100%) customers would recommend this product.
Have Questions?

- Or -
Indoor Enclosed Changeable Letter Boards
Includes lockable doors, acrylic safety glass windows, continuous hinges, concealed mounting brackets, and a slotted background in felt or vinyl.
Available in Aluminum or 3 Stylish Wood Finishes
Lighted models feature a UL-listed fluorescent fixture, light deflector bulbs, and a 3 wire electric lead.
Headers allow you to add a personalized inscription to the cabinet
Prices shown cover black lettering in header only, Personalized logo and colors are available at an upcharge.
Choose from 1, 2, or 3 door configurations.
You May Also Like
For your reference:
This item is also sometimes listed under the following manufacturer numbers
ECHD218, ECHD218H, ECHD32, ECHD32H, ECHD330, ECHD330H, ECHD34, ECHD34H, ECHD35, ECHD35H, ECHD36, ECHD36-3D, ECHD36H, ECHD36H-3D, ECHD43, ECHD43H, ECHD45, ECHD45H, ECHD46, ECHD46-3D, ECHD46H, ECHD46H-3D, ECHD48-3D, ECHD48H-3D, EOKD218, EOKD218H, EOKD32, EOKD32H, EOKD330, EOKD330H, EOKD34, EOKD34H, EOKD35, EOKD35H, EOKD36, EOKD36-3D, EOKD36H, EOKD36H-3D, EOKD43, EOKD43H, EOKD45, EOKD45H, EOKD46, EOKD46-3D, EOKD46H, EOKD46H-3D, EOKD48-3D, EOKD48H-3D, EWND218, EWND218H, EWND32, EWND32H, EWND330, EWND330H, EWND34, EWND34H, EWND35, EWND35H, EWND36, EWND36-3D, EWND36H
, EWND36H-3D, EWND43, EWND43H, EWND45, EWND45H, EWND46, EWND46-3D, EWND46H, EWND46H-3D, EWND48-3D, EWND48H-3D, IED218, IED218H, IED218HI, IED218I, IED32, IED32H, IED32HI, IED32I, IED330, IED330H, IED330HI, IED330I, IED34, IED34H, IED34HI, IED34I, IED35, IED35H, IED35HI, IED35I, IED36, IED36-3D, IED36H, IED36H-3D, IED36HI, IED36HI-3D, IED36I, IED36I-3D, IED43, IED43H, IED43HI, IED43I, IED45, IED45H, IED45HI, IED45I, IED46, IED46-3D, IED46H, IED46H-3D, IED46HI, IED46HI-3D, IED46I, IED46I-3D, IED48-3D, IED48H-3D, IED48HI-3D, IED48I-3D
...
Show All