Fixed Bench Elliptical Mobile Cafeteria Table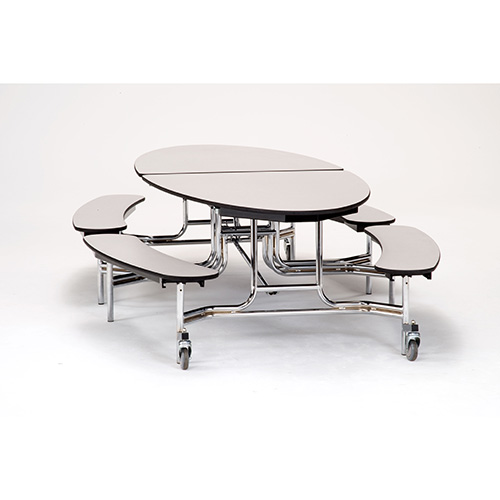 Customer Reviews:
Be the first to review this product.


Write a Review »
Have Questions?

Mobile Fixed Bench Units are available in rectangle, round, and elliptical shapes. Using bench tables will allow for more seating per table vs. stools which is great for small children and adults. Outfit your room with some variety by using both benches and stools on round and elliptical tables. Several combinations available.
Particleboard, Plywood and MDF Units
Phenolic Backer adds sanitary protection
Power-washable
Automatic Down Lock that is self-leveling
Locks table partially open for under table cleaning
Anti-Bacterial with ProtectEdge
Tamper-free hardware
No-trip casters lift off floor
One person operated "EasyLift" system
Table Height:29"H
Bench Height:17"H
You May Also Like
For your reference:
This item is also sometimes listed under the following manufacturer numbers
METB-MDPECRCHCH, METB-MDPECRFMFM, METB-MDPECRGYGY, METB-MDPECROKOK, METB-MDPECRWTWT, METB-MDPEPCCHCH, METB-MDPEPCFMFM, METB-MDPEPCGYGY, METB-MDPEPCOKOK, METB-MDPEPCWTWT, METB-PBTMCRCHCH, METB-PBTMCRFMFM, METB-PBTMCRGYGY, METB-PBTMCROKOK, METB-PBTMCRWTWT, METB-PBTMPCCHCH, METB-PBTMPCFMFM, METB-PBTMPCGYGY, METB-PBTMPCOKOK, METB-PBTMPCWTWT, METB-PWPECRCHCH, METB-PWPECRFMFM, METB-PWPECRGYGY, METB-PWPECROKOK, METB-PWPECRWTWT, METB-PWPEPCCHCH, METB-PWPEPCFMFM, METB-PWPEPCGYGY, METB-PWPEPCOKOK, METB-PWPEPCWTWT, METB-PWTMCRCHCH, METB-PWTMCRFMFM, METB-PWTMCRGYGY, METB-PWTMCROKOK, METB-PWTMCRWTWT, METB-PWTMPCCHCH, METB-PWTMPCFMFM, METB-PWTMPCGYGY, METB-PWTMPCOKOK, METB-PWTMPCWTWT