Elite Series Storage Cabinets with Adjustable Shelves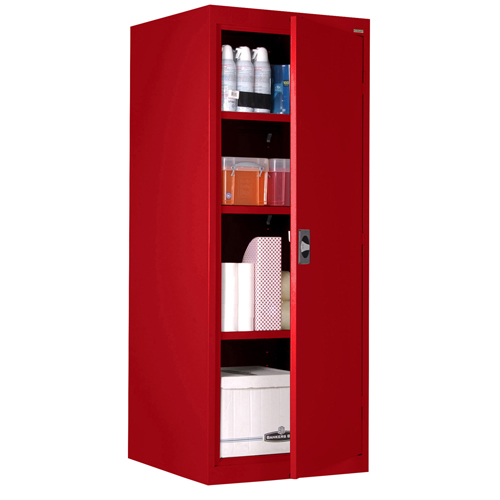 Customer Reviews:
Be the first to review this product.


Write a Review »
Have Questions?

The Elite Cabinets are high above other security cabinets. The Elite Series
Storage Cabinet with Adjustable Shelves
has a locking door to keep valuables and hazardous materials safe and secure. These shelves meet ANSI/BIFMA standards. This cabinet comes with a 5 year limited warranty. Pre-assembled cabinets make storing valuables easy for busy lives. Elite Series Storage Cabinets with adjustable shelves come in several colors to customize your space. Imagine a Burgundy color in the classroom and a Blue in your garage. Either way, you'll have peace of mind knowing everything is locked away securely.
Product Information:

4 Adjustable shelves on 2" centers
Raised bottom shelf
Heavy gauge steel
3 Point recessed locking handle
Powder Coat Finish
Available in 15 different colors
You May Also Like
For your reference:
This item is also sometimes listed under the following manufacturer numbers
EA3R-242460-01, EA3R-242460-02, EA3R-242460-03, EA3R-242460-04, EA3R-242460-05, EA3R-242460-06, EA3R-242460-07, EA3R-242460-08, EA3R-242460-09, EA3R-242460-22, EA3R-242460-22M, EA3R-242460-A6, EA3R-242460-EY, EA3R-242460-MG, EA4R-361872-01, EA4R-361872-02, EA4R-361872-03, EA4R-361872-04, EA4R-361872-05, EA4R-361872-06, EA4R-361872-07, EA4R-361872-08, EA4R-361872-09, EA4R-361872-22, EA4R-361872-22M, EA4R-361872-A6, EA4R-361872-EY, EA4R-361872-MG, EA4R-361878-01, EA4R-361878-02, EA4R-361878-03, EA4R-361878-04, EA4R-361878-05, EA4R-361878-06, EA4R-361878-07, EA4R-361878-08, EA4R-361878-09, EA4R-361878-22, EA4R-361878-22M, EA4R-361878-EY, EA4R-361878-MG, EA4R-362472-01, EA4R-362472-02, EA4R-362472-03, EA4R-362472-04, EA4R-362472-05, EA4R-362472-06, EA4R-362472-07, EA4R-362472-08, EA4R-362472-09, EA4R-362472-22, EA4R-362472-22M, EA4R-362472-A6, EA4R-362472-EY, EA4R-362472-MG, EA4R-362478-01, EA4R-362478-02, EA4R-362478-03, EA4R-362478-04, EA4R-362478-05, EA4R-362478-06
, EA4R-362478-07, EA4R-362478-08, EA4R-362478-09, EA4R-362478-22, EA4R-362478-22M, EA4R-362478-A6, EA4R-362478-EY, EA4R-362478-MG, EA4R-462472-01, EA4R-462472-02, EA4R-462472-03, EA4R-462472-04, EA4R-462472-05, EA4R-462472-06, EA4R-462472-07, EA4R-462472-08, EA4R-462472-09, EA4R-462472-22, EA4R-462472-22M, EA4R-462472-A6, EA4R-462472-EY, EA4R-462472-MG, EA4R-462478-01, EA4R-462478-02, EA4R-462478-03, EA4R-462478-04, EA4R-462478-05, EA4R-462478-06, EA4R-462478-07, EA4R-462478-08, EA4R-462478-09, EA4R-462478-22, EA4R-462478-22M, EA4R-462478-A6, EA4R-462478-EY, EA4R-462478-MG
...
Show All