Elite Series Keyless Electronic Welded Storage Cabinets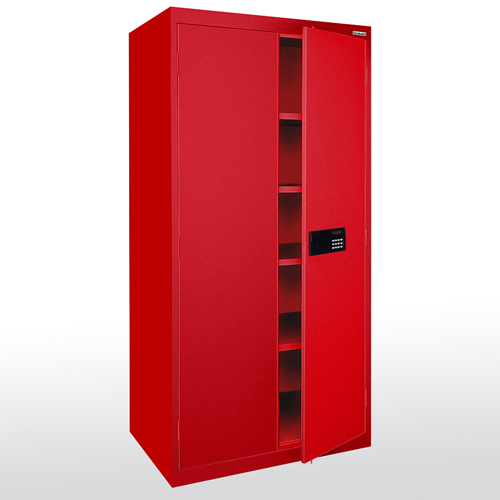 Customer Reviews:
Be the first to review this product.


Write a Review »
Have Questions?

Steel
storage cabinets
are durable and add a layer of security. Extra secure cabinets come in the form of keyless entry cabinets. The coded lock comes with two passwords, one for the administrator and one for the user. The user gets a 4 digit passcode and the administrator has a 6- digit code. Change the code as needed.
The Elite Series Keyless Electronic Welded Storage Cabinet is definitely elite and one of a kind. The keyless entry has a record of the day's entries. The keyless entry comes with an emergency key for safe keeping. With several colors to choose from, you can customize the look of your space. Keep valuables, hazardous materials, and equipment in the shelving units. This cabinet meets ANSI/BIFMA shelf standards and has 4 adjustable shelves. This one of a kind cabinet is ideal for safekeeping.
Product Information:

Heavy gauge welded steel
4 Adjustable shelves on 2" centers
Raised bottom shelf
Keyless electronic coded locking system
Emergency key included
Powder coat paint finish
Available in 15 different colors
You May Also Like
For your reference:
This item is also sometimes listed under the following manufacturer numbers
EA4E-361872-01, EA4E-361872-02, EA4E-361872-03, EA4E-361872-04, EA4E-361872-05, EA4E-361872-06, EA4E-361872-07, EA4E-361872-08, EA4E-361872-09, EA4E-361872-22, EA4E-361872-22M, EA4E-361872-MG, EA4E-361878-01, EA4E-361878-02, EA4E-361878-03, EA4E-361878-04, EA4E-361878-05, EA4E-361878-06, EA4E-361878-07, EA4E-361878-08, EA4E-361878-09, EA4E-361878-22, EA4E-361878-22M, EA4E-361878-MG, EA4E-362472-01, EA4E-362472-02, EA4E-362472-03, EA4E-362472-04, EA4E-362472-05, EA4E-362472-06, EA4E-362472-07, EA4E-362472-08, EA4E-362472-09, EA4E-362472-22, EA4E-362472-22M, EA4E-362472-MG, EA4E-362478-01, EA4E-362478-02, EA4E-362478-03, EA4E-362478-04, EA4E-362478-05, EA4E-362478-06, EA4E-362478-07, EA4E-362478-08, EA4E-362478-09, EA4E-362478-22, EA4E-362478-22M, EA4E-362478-MG, EA4E-462472-01, EA4E-462472-02, EA4E-462472-03, EA4E-462472-04, EA4E-462472-05, EA4E-462472-06, EA4E-462472-07, EA4E-462472-08, EA4E-462472-09, EA4E-462472-22, EA4E-462472-22M, EA4E-462472-MG, EA4E-462478-01
, EA4E-462478-02, EA4E-462478-03, EA4E-462478-04, EA4E-462478-05, EA4E-462478-06, EA4E-462478-07, EA4E-462478-08, EA4E-462478-09, EA4E-462478-22, EA4E-462478-22M, EA4E-462478-MG
...
Show All