Egan™ VersaBoard Lightweight Markerboards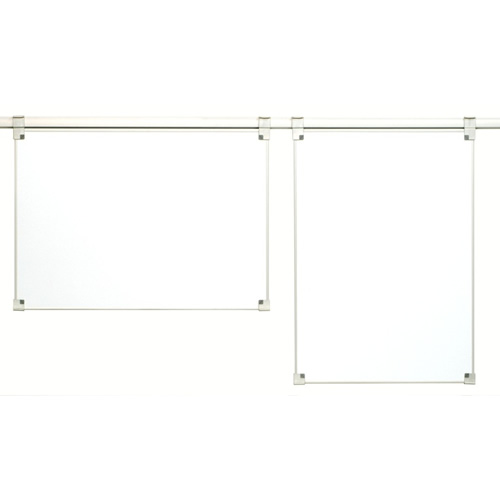 EVS is a one of a kind low glare surface that allows for projections to be seen easily from all angles with the lights on or off. These lightweight boards also flip in a matter of seconds.
Customer Reviews:
Be the first to review this product.


Write a Review »
Have Questions?

- Or -
The most effective lightweight, versatile, guaranteed-to-clean
Wall Mounted Whiteboard
in the world. The EVS Write surface hangs portrait or switches to landscape in seconds, with mounting options to suit every need. Incredibly lightweight, Egan VersaBoard is reversible, offering double the work surface--and guaranteed-to-clean! When ordering, it is important to note that EVS and EganBoard Porcelain are designed with slightly different shades of white. When installed side-by-side, the difference in hue is noticeable.
Choose a board size.
Choose from a wall mount, an edge mount, a track mount, or a top mount.
For top mounts, select a mount size: narrow, medium, or large available.
Buy separately or in a pack of 3 or 5 for extra savings.
Ships with specified mount.
ATTENTION: Please note that Egan products may not be returned unless defective.
You May Also Like
For your reference:
This item is also sometimes listed under the following manufacturer numbers
EVB2636E1, EVB2636E3, EVB2636E5, EVB2636PA1, EVB2636PA3, EVB2636PA5, EVB2636PB1, EVB2636PB3, EVB2636PB5, EVB2636PC1, EVB2636PC3, EVB2636PC5, EVB2636T1, EVB2636T3, EVB2636T5, EVB2636W1, EVB2636W3, EVB2636W5, EVB3648E1, EVB3648E3, EVB3648E5, EVB3648PA1, EVB3648PA3, EVB3648PA5, EVB3648PB1, EVB3648PB3, EVB3648PB5, EVB3648PC1, EVB3648PC3, EVB3648PC5, EVB3648T1, EVB3648T3, EVB3648T5, EVB3648W1, EVB3648W3, EVB3648W5