Egan™ Etex Presentation Cabinets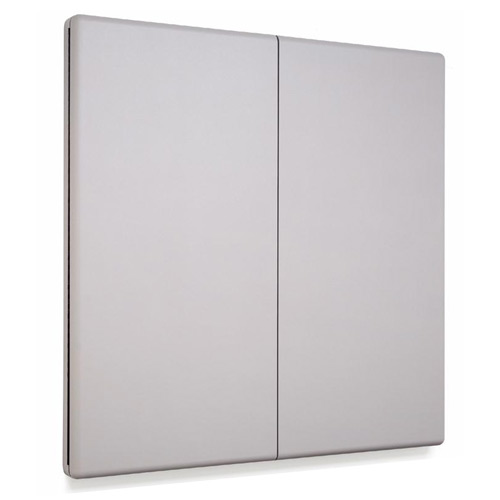 Image May Not Reflect Selected Options
This conference room cabinet has it all: locking doors, projection screen, magnetic writing surface, & custom choices to really make this your own.
Customer Reviews:
Be the first to review this product.


Write a Review »
Have Questions?

Etex Presentation Cabinet includes Egan EVS Write or EganBoard Porcelain
Markerboard
protected by an Etex Color Cabinet with a durable, easy-to-maintain finish that hides fingerprints. Choose from 12 models in different sizes, shapes, and writing surfaces. This
Conference Room Cabinet
include tackable Egan Fabric panels and a flipchart that hangs from either door for more presentation room. Ships with red, green, brown and black markers, a mounting bracket, and an Egan Cloth to eliminate ghosting and remove dry erase dust.
Select either an EVS Write or an EganBoard Porcelain surface (Rectilinear-edged models come only with Porcelain).
Choose from two edge styles: Rectilinear or Bullnose.
Select from nine Etex finishes.
Second flipchart with tearbar available (not available on 24" wide models).
Cabinet locks available.
Retractable Projection Screen available for cabinets with 48" high EVS Write surface; ships standard for 48"H Porcelain writing surfaces. Projection screen not available for writing surfaces less than 48"H.
PermaGrid (2" grid pattern on board) available for 24" and 32" high EganBoard Porcelain writing surfaces.
Optional writing surface door inserts available on Bullnose-edged models for more writing space; writing surface matches surface specified for base cabinet and cannot be modified with PermaGrid. Door inserts cannot be combined with Flipchart option.
This item can be customized in many ways beyond the options listed on this page, please call for more information.
* The 36"H x 24"W Cabinet comes with One Door. Not Two as shown in the image.


ATTENTION: Please note that Egan products may not be returned unless defective. Egan products are custom in nature and an order cannot be cancelled once in production.
You May Also Like
For your reference:
This item is also sometimes listed under the following manufacturer numbers
CABX24BL, CABX24BLD, CABX24BLL, CABX24BLLD, CABX24CL, CABX24CLD, CABX24CLL, CABX24CLLD, CABX24EM, CABX24EMD, CABX24EML, CABX24EMLD, CABX24GR, CABX24GRD, CABX24GRL, CABX24GRLD, CABX24PT, CABX24PTD, CABX24PTL, CABX24PTLD, CABX24PY, CABX24PYD, CABX24PYL, CABX24PYLD, CABX24SL, CABX24SLD, CABX24SLL, CABX24SLLD, CABX24SN, CABX24SND, CABX24SNL, CABX24SNLD, CABX24TA, CABX24TAD, CABX24TAL, CABX24TALD, CABX32BL, CABX32BLD, CABX32BLF, CABX32BLFL, CABX32BLL, CABX32BLLD, CABX32CL, CABX32CLD, CABX32CLF, CABX32CLFL, CABX32CLL, CABX32CLLD, CABX32EM, CABX32EMD, CABX32EMF, CABX32EMFL, CABX32EML, CABX32EMLD, CABX32GR, CABX32GRD, CABX32GRF, CABX32GRFL, CABX32GRL, CABX32GRLD, CABX32PT
, CABX32PTD, CABX32PTF, CABX32PTFL, CABX32PTL, CABX32PTLD, CABX32PY, CABX32PYD, CABX32PYF, CABX32PYFL, CABX32PYL, CABX32PYLD, CABX32SL, CABX32SLD, CABX32SLF, CABX32SLFL, CABX32SLL, CABX32SLLD, CABX32SN, CABX32SND, CABX32SNF, CABX32SNFL, CABX32SNL, CABX32SNLD, CABX32TA, CABX32TAD, CABX32TAF, CABX32TAFL, CABX32TAL, CABX32TALD, CABX48BL, CABX48BLD, CABX48BLF, CABX48BLFL, CABX48BLL, CABX48BLLD, CABX48CL, CABX48CLD, CABX48CLF, CABX48CLFL, CABX48CLL, CABX48CLLD, CABX48EM, CABX48EMD, CABX48EMF, CABX48EMFL, CABX48EML, CABX48EMLD, CABX48GR, CABX48GRD, CABX48GRF, CABX48GRFL, CABX48GRL, CABX48GRLD, CABX48PT, CABX48PTD, CABX48PTF, CABX48PTFL, CABX48PTL, CABX48PTLD, CABX48PY, CABX48PYD, CABX48PYF, CABX48PYFL, CABX48PYL, CABX48PYLD, CABX48SL, CABX48SLD, CABX48SLF, CABX48SLFL, CABX48SLL, CABX48SLLD, CABX48SN, CABX48SND, CABX48SNF, CABX48SNFL, CABX48SNL, CABX48SNLD, CABX48TA, CABX48TAD, CABX48TAF, CABX48TAFL, CABX48TAL, CABX48TALD, CABX72BL, CABX72BLD, CABX72BLF, CABX72BLFL, CABX72BLL, CABX72BLLD, CABX72CL, CABX72CLD, CABX72CLF, CABX72CLFL, CABX72CLL, CABX72CLLD, CABX72EM, CABX72EMD, CABX72EMF, CABX72EMFL, CABX72EML, CABX72EMLD, CABX72GR, CABX72GRD, CABX72GRF, CABX72GRFL, CABX72GRL, CABX72GRLD, CABX72PT, CABX72PTD, CABX72PTF, CABX72PTFL, CABX72PTL, CABX72PTLD, CABX72PY, CABX72PYD, CABX72PYF, CABX72PYFL, CABX72PYL, CABX72PYLD, CABX72SL, CABX72SLD, CABX72SLF, CABX72SLFL, CABX72SLL, CABX72SLLD, CABX72SN, CABX72SND, CABX72SNF, CABX72SNFL, CABX72SNL, CABX72SNLD, CABX72TA, CABX72TAD, CABX72TAF, CABX72TAFL, CABX72TAL, CABX72TALD, CAPX24BL, CAPX24BLL, CAPX24CL, CAPX24CLL, CAPX24EM, CAPX24EML, CAPX24GR, CAPX24GRL, CAPX24PT, CAPX24PTL, CAPX24PY, CAPX24PYL, CAPX24SL, CAPX24SLL, CAPX24SN, CAPX24SNL, CAPX24TA, CAPX24TAL, CAPX32BL, CAPX32BLF, CAPX32BLFL, CAPX32BLL, CAPX32CL, CAPX32CLF, CAPX32CLFL, CAPX32CLL, CAPX32EM, CAPX32EMF, CAPX32EMFL, CAPX32EML, CAPX32GR, CAPX32GRF, CAPX32GRFL, CAPX32GRL, CAPX32PT, CAPX32PTF, CAPX32PTFL, CAPX32PTL, CAPX32PY, CAPX32PYF, CAPX32PYFL, CAPX32PYL, CAPX32SL, CAPX32SLF, CAPX32SLFL, CAPX32SLL, CAPX32SN, CAPX32SNF, CAPX32SNFL, CAPX32SNL, CAPX32TA, CAPX32TAF, CAPX32TAFL, CAPX32TAL, CAPX48BL, CAPX48BLF, CAPX48BLFL, CAPX48BLL, CAPX48CL, CAPX48CLF, CAPX48CLFL, CAPX48CLL, CAPX48EM, CAPX48EMF, CAPX48EMFL, CAPX48EML, CAPX48GR, CAPX48GRF, CAPX48GRFL, CAPX48GRL, CAPX48PT, CAPX48PTF, CAPX48PTFL, CAPX48PTL, CAPX48PY, CAPX48PYF, CAPX48PYFL, CAPX48PYL, CAPX48SL, CAPX48SLF, CAPX48SLFL, CAPX48SLL, CAPX48SN, CAPX48SNF, CAPX48SNFL, CAPX48SNL, CAPX48TA, CAPX48TAF, CAPX48TAFL, CAPX48TAL, CAPX72BL, CAPX72BLF, CAPX72BLFL, CAPX72BLL, CAPX72CL, CAPX72CLF, CAPX72CLFL, CAPX72CLL, CAPX72EM, CAPX72EMF, CAPX72EMFL, CAPX72EML, CAPX72GR, CAPX72GRF, CAPX72GRFL, CAPX72GRL, CAPX72PT, CAPX72PTF, CAPX72PTFL, CAPX72PTL, CAPX72PY, CAPX72PYF, CAPX72PYFL, CAPX72PYL, CAPX72SL, CAPX72SLF, CAPX72SLFL, CAPX72SLL, CAPX72SN, CAPX72SNF, CAPX72SNFL, CAPX72SNL, CAPX72TA, CAPX72TAF, CAPX72TAFL, CAPX72TAL, CEXB24BL, CEXB24BLD, CEXB24BLL, CEXB24BLLD, CEXB24CL, CEXB24CLD, CEXB24CLL, CEXB24CLLD, CEXB24EM, CEXB24EMD, CEXB24EML, CEXB24EMLD, CEXB24GR, CEXB24GRD, CEXB24GRL, CEXB24GRLD, CEXB24PT, CEXB24PTD, CEXB24PTL, CEXB24PTLD, CEXB24PY, CEXB24PYD, CEXB24PYL, CEXB24PYLD, CEXB24SL, CEXB24SLD, CEXB24SLL, CEXB24SLLD, CEXB24SN, CEXB24SND, CEXB24SNL, CEXB24SNLD, CEXB24TA, CEXB24TAD, CEXB24TAL, CEXB24TALD, CEXB32BL, CEXB32BLD, CEXB32BLF, CEXB32BLFL, CEXB32BLL, CEXB32BLLD, CEXB32CL, CEXB32CLD, CEXB32CLF, CEXB32CLFL, CEXB32CLL, CEXB32CLLD, CEXB32EM, CEXB32EMD, CEXB32EMF, CEXB32EMFL, CEXB32EML, CEXB32EMLD, CEXB32GR, CEXB32GRD, CEXB32GRF, CEXB32GRFL, CEXB32GRL, CEXB32GRLD, CEXB32PT, CEXB32PTD, CEXB32PTF, CEXB32PTFL, CEXB32PTL, CEXB32PTLD, CEXB32PY, CEXB32PYD, CEXB32PYF, CEXB32PYFL, CEXB32PYL, CEXB32PYLD, CEXB32SL, CEXB32SLD, CEXB32SLF, CEXB32SLFL, CEXB32SLL, CEXB32SLLD, CEXB32SN, CEXB32SND, CEXB32SNF, CEXB32SNFL, CEXB32SNL, CEXB32SNLD, CEXB32TA, CEXB32TAD, CEXB32TAF, CEXB32TAFL, CEXB32TAL, CEXB32TALD, CEXB48BL, CEXB48BLD, CEXB48BLF, CEXB48BLFL, CEXB48BLFLP, CEXB48BLFP, CEXB48BLL, CEXB48BLLD, CEXB48BLLP, CEXB48BLLPD, CEXB48BLP, CEXB48BLPD, CEXB48CL, CEXB48CLD, CEXB48CLF, CEXB48CLFL, CEXB48CLFLP, CEXB48CLFP, CEXB48CLL, CEXB48CLLD, CEXB48CLLP, CEXB48CLLPD, CEXB48CLP, CEXB48CLPD, CEXB48EM, CEXB48EMD, CEXB48EMF, CEXB48EMFL, CEXB48EMFLP, CEXB48EMFP, CEXB48EML, CEXB48EMLD, CEXB48EMLP, CEXB48EMLPD, CEXB48EMP, CEXB48EMPD, CEXB48GR, CEXB48GRD, CEXB48GRF, CEXB48GRFL, CEXB48GRFLP, CEXB48GRFP, CEXB48GRL, CEXB48GRLD, CEXB48GRLP, CEXB48GRLPD, CEXB48GRP, CEXB48GRPD, CEXB48PT, CEXB48PTD, CEXB48PTF, CEXB48PTFL, CEXB48PTFLP, CEXB48PTFP, CEXB48PTL, CEXB48PTLD, CEXB48PTLP, CEXB48PTLPD, CEXB48PTP, CEXB48PTPD, CEXB48PY, CEXB48PYD, CEXB48PYF, CEXB48PYFL, CEXB48PYFLP, CEXB48PYFP, CEXB48PYL, CEXB48PYLD, CEXB48PYLP, CEXB48PYLPD, CEXB48PYP, CEXB48PYPD, CEXB48SL, CEXB48SLD, CEXB48SLF, CEXB48SLFL, CEXB48SLFLP, CEXB48SLFP, CEXB48SLL, CEXB48SLLD, CEXB48SLLP, CEXB48SLLPD, CEXB48SLP, CEXB48SLPD, CEXB48SN, CEXB48SND, CEXB48SNF, CEXB48SNFL, CEXB48SNFLP, CEXB48SNFP, CEXB48SNL, CEXB48SNLD, CEXB48SNLP, CEXB48SNLPD, CEXB48SNP, CEXB48SNPD, CEXB48TA, CEXB48TAD, CEXB48TAF, CEXB48TAFL, CEXB48TAFLP, CEXB48TAFP, CEXB48TAL, CEXB48TALD, CEXB48TALP, CEXB48TALPD, CEXB48TAP, CEXB48TAPD, CEXB72BL, CEXB72BLD, CEXB72BLF, CEXB72BLFL, CEXB72BLFLP, CEXB72BLFP, CEXB72BLL, CEXB72BLLD, CEXB72BLLP, CEXB72BLLPD, CEXB72BLP, CEXB72BLPD, CEXB72CL, CEXB72CLD, CEXB72CLF, CEXB72CLFL, CEXB72CLFLP, CEXB72CLFP, CEXB72CLL, CEXB72CLLD, CEXB72CLLP, CEXB72CLLPD, CEXB72CLP, CEXB72CLPD, CEXB72EM, CEXB72EMD, CEXB72EMF, CEXB72EMFL, CEXB72EMFLP, CEXB72EMFP, CEXB72EML, CEXB72EMLD, CEXB72EMLP, CEXB72EMLPD, CEXB72EMP, CEXB72EMPD, CEXB72GR, CEXB72GRD, CEXB72GRF, CEXB72GRFL, CEXB72GRFLP, CEXB72GRFP, CEXB72GRL, CEXB72GRLD, CEXB72GRLP, CEXB72GRLPD, CEXB72GRP, CEXB72GRPD, CEXB72PT, CEXB72PTD, CEXB72PTF, CEXB72PTFL, CEXB72PTFLP, CEXB72PTFP, CEXB72PTL, CEXB72PTLD, CEXB72PTLP, CEXB72PTLPD, CEXB72PTP, CEXB72PTPD, CEXB72PY, CEXB72PYD, CEXB72PYF, CEXB72PYFL, CEXB72PYFLP, CEXB72PYFP, CEXB72PYL, CEXB72PYLD, CEXB72PYLP, CEXB72PYLPD, CEXB72PYP, CEXB72PYPD, CEXB72SL, CEXB72SLD, CEXB72SLF, CEXB72SLFL, CEXB72SLFLP, CEXB72SLFP, CEXB72SLL, CEXB72SLLD, CEXB72SLLP, CEXB72SLLPD, CEXB72SLP, CEXB72SLPD, CEXB72SN, CEXB72SND, CEXB72SNF, CEXB72SNFL, CEXB72SNFLP, CEXB72SNFP, CEXB72SNL, CEXB72SNLD, CEXB72SNLP, CEXB72SNLPD, CEXB72SNP, CEXB72SNPD, CEXB72TA, CEXB72TAD, CEXB72TAF, CEXB72TAFL, CEXB72TAFLP, CEXB72TAFP, CEXB72TAL, CEXB72TALD, CEXB72TALP, CEXB72TALPD, CEXB72TAP, CEXB72TAPD
...
Show All