Egan™ EganSystem Office Cabinets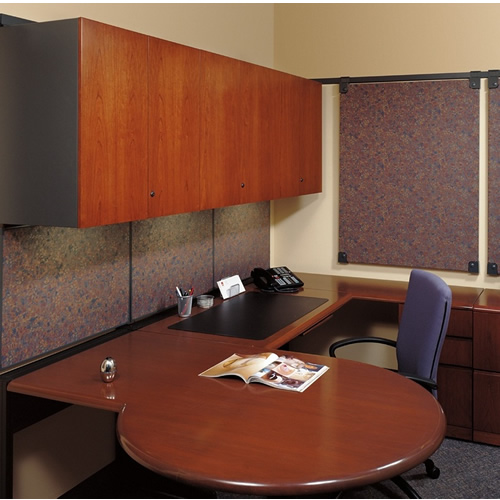 This Egan System Track also holds flipcharts, whiteboards, and shelving that you can find here. Rearrange as you see fit with easy to slide on and off cabinetry that locks into place.
Customer Reviews:
Be the first to review this product.


Write a Review »
Have Questions?

EganSystem Office Shelf Cabinets are designed with a continuous track hanger that runs across the width of the product to evenly distribute weight to safely support the shelves and cabinets. The hanger slides easily across the track for quick, simple re-configuration. The entire line is ideal for office environments, providing utility on the wall without compromising floor space. With GripTrack and Security Locks, cabinets are prevented from movement.
This
Conference Room Cabinet
features:
Shelves have 36" Width and 12.5" Depth
Choose cabinet option: one fixed and one adjustable shelf with two doors or one fixed and two adjustable shelves with two doors available.
Select an Etex shelf finish.
Select a wood veneer door finish.
Optional security lock available.
Egan Security Locks are designed to lock single units or a series of EganSystem Office products to the track. Great for security and to prevent shelves from lifting up and off the track.
This item can be customized in many ways beyond the options listed on this page, please call for more information.
ATTENTION: Please note that Egan products may not be returned unless defective. Egan products are custom in nature and an order cannot be cancelled once in production.
You May Also Like
For your reference:
This item is also sometimes listed under the following manufacturer numbers
ESOC362BLBO, ESOC362BLBOQB, ESOC362BLCH, ESOC362BLCHQB, ESOC362BLDO, ESOC362BLDOQB, ESOC362BLLO, ESOC362BLLOQB, ESOC362BLMA, ESOC362BLMAQB, ESOC362BLMO, ESOC362BLMOQB, ESOC362BLMP, ESOC362BLMPQB, ESOC362BLWA, ESOC362BLWAQB, ESOC362CLBO, ESOC362CLBOQB, ESOC362CLCH, ESOC362CLCHQB, ESOC362CLDO, ESOC362CLDOQB, ESOC362CLLO, ESOC362CLLOQB, ESOC362CLMA, ESOC362CLMAQB, ESOC362CLMO, ESOC362CLMOQB, ESOC362CLMP, ESOC362CLMPQB, ESOC362CLWA, ESOC362CLWAQB, ESOC362EMBO, ESOC362EMBOQB, ESOC362EMCH, ESOC362EMCHQB, ESOC362EMDO, ESOC362EMDOQB, ESOC362EMLO, ESOC362EMLOQB, ESOC362EMMA, ESOC362EMMAQB, ESOC362EMMO, ESOC362EMMOQB, ESOC362EMMP, ESOC362EMMPQB, ESOC362EMWA, ESOC362EMWAQB, ESOC362GRBO, ESOC362GRBOQB, ESOC362GRCH, ESOC362GRCHQB, ESOC362GRDO, ESOC362GRDOQB, ESOC362GRLO, ESOC362GRLOQB, ESOC362GRMA, ESOC362GRMAQB, ESOC362GRMO, ESOC362GRMOQB, ESOC362GRMP
, ESOC362GRMPQB, ESOC362GRWA, ESOC362GRWAQB, ESOC362PTBO, ESOC362PTBOQB, ESOC362PTCH, ESOC362PTCHQB, ESOC362PTDO, ESOC362PTDOQB, ESOC362PTLO, ESOC362PTLOQB, ESOC362PTMA, ESOC362PTMAQB, ESOC362PTMO, ESOC362PTMOQB, ESOC362PTMP, ESOC362PTMPQB, ESOC362PTWA, ESOC362PTWAQB, ESOC362PYBO, ESOC362PYBOQB, ESOC362PYCH, ESOC362PYCHQB, ESOC362PYDO, ESOC362PYDOQB, ESOC362PYLO, ESOC362PYLOQB, ESOC362PYMA, ESOC362PYMAQB, ESOC362PYMO, ESOC362PYMOQB, ESOC362PYMP, ESOC362PYMPQB, ESOC362PYWA, ESOC362PYWAQB, ESOC362SLBO, ESOC362SLBOQB, ESOC362SLCH, ESOC362SLCHQB, ESOC362SLDO, ESOC362SLDOQB, ESOC362SLLO, ESOC362SLLOQB, ESOC362SLMA, ESOC362SLMAQB, ESOC362SLMO, ESOC362SLMOQB, ESOC362SLMP, ESOC362SLMPQB, ESOC362SLWA, ESOC362SLWAQB, ESOC362SNBO, ESOC362SNBOQB, ESOC362SNCH, ESOC362SNCHQB, ESOC362SNDO, ESOC362SNDOQB, ESOC362SNLO, ESOC362SNLOQB, ESOC362SNMA, ESOC362SNMAQB, ESOC362SNMO, ESOC362SNMOQB, ESOC362SNMP, ESOC362SNMPQB, ESOC362SNWA, ESOC362SNWAQB, ESOC362TABO, ESOC362TABOQB, ESOC362TACH, ESOC362TACHQB, ESOC362TADO, ESOC362TADOQB, ESOC362TALO, ESOC362TALOQB, ESOC362TAMA, ESOC362TAMAQB, ESOC362TAMO, ESOC362TAMOQB, ESOC362TAMP, ESOC362TAMPQB, ESOC362TAWA, ESOC362TAWAQB, ESOC363BLBO, ESOC363BLBOQB, ESOC363BLCH, ESOC363BLCHQB, ESOC363BLDO, ESOC363BLDOQB, ESOC363BLLO, ESOC363BLLOQB, ESOC363BLMA, ESOC363BLMAQB, ESOC363BLMO, ESOC363BLMOQB, ESOC363BLMP, ESOC363BLMPQB, ESOC363BLWA, ESOC363BLWAQB, ESOC363CLBO, ESOC363CLBOQB, ESOC363CLCH, ESOC363CLCHQB, ESOC363CLDO, ESOC363CLDOQB, ESOC363CLLO, ESOC363CLLOQB, ESOC363CLMA, ESOC363CLMAQB, ESOC363CLMO, ESOC363CLMOQB, ESOC363CLMP, ESOC363CLMPQB, ESOC363CLWA, ESOC363CLWAQB, ESOC363EMBO, ESOC363EMBOQB, ESOC363EMCH, ESOC363EMCHQB, ESOC363EMDO, ESOC363EMDOQB, ESOC363EMLO, ESOC363EMLOQB, ESOC363EMMA, ESOC363EMMAQB, ESOC363EMMO, ESOC363EMMOQB, ESOC363EMMP, ESOC363EMMPQB, ESOC363EMWA, ESOC363EMWAQB, ESOC363GRBO, ESOC363GRBOQB, ESOC363GRCH, ESOC363GRCHQB, ESOC363GRDO, ESOC363GRDOQB, ESOC363GRLO, ESOC363GRLOQB, ESOC363GRMA, ESOC363GRMAQB, ESOC363GRMO, ESOC363GRMOQB, ESOC363GRMP, ESOC363GRMPQB, ESOC363GRWA, ESOC363GRWAQB, ESOC363PTBO, ESOC363PTBOQB, ESOC363PTCH, ESOC363PTCHQB, ESOC363PTDO, ESOC363PTDOQB, ESOC363PTLO, ESOC363PTLOQB, ESOC363PTMA, ESOC363PTMAQB, ESOC363PTMO, ESOC363PTMOQB, ESOC363PTMP, ESOC363PTMPQB, ESOC363PTWA, ESOC363PTWAQB, ESOC363PYBO, ESOC363PYBOQB, ESOC363PYCH, ESOC363PYCHQB, ESOC363PYDO, ESOC363PYDOQB, ESOC363PYLO, ESOC363PYLOQB, ESOC363PYMA, ESOC363PYMAQB, ESOC363PYMO, ESOC363PYMOQB, ESOC363PYMP, ESOC363PYMPQB, ESOC363PYWA, ESOC363PYWAQB, ESOC363SLBO, ESOC363SLBOQB, ESOC363SLCH, ESOC363SLCHQB, ESOC363SLDO, ESOC363SLDOQB, ESOC363SLLO, ESOC363SLLOQB, ESOC363SLMA, ESOC363SLMAQB, ESOC363SLMO, ESOC363SLMOQB, ESOC363SLMP, ESOC363SLMPQB, ESOC363SLWA, ESOC363SLWAQB, ESOC363SNBO, ESOC363SNBOQB, ESOC363SNCH, ESOC363SNCHQB, ESOC363SNDO, ESOC363SNDOQB, ESOC363SNLO, ESOC363SNLOQB, ESOC363SNMA, ESOC363SNMAQB, ESOC363SNMO, ESOC363SNMOQB, ESOC363SNMP, ESOC363SNMPQB, ESOC363SNWA, ESOC363SNWAQB, ESOC363TABO, ESOC363TABOQB, ESOC363TACH, ESOC363TACHQB, ESOC363TADO, ESOC363TADOQB, ESOC363TALO, ESOC363TALOQB, ESOC363TAMA, ESOC363TAMAQB, ESOC363TAMO, ESOC363TAMOQB, ESOC363TAMP, ESOC363TAMPQB, ESOC363TAWA, ESOC363TAWAQB
...
Show All