Egan™ Designer Aluminum Frame Markerboards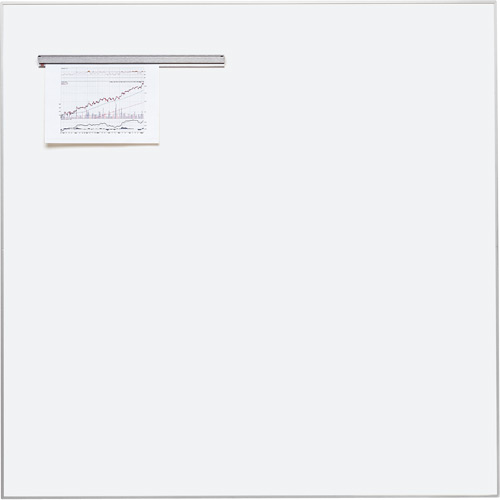 Image May Not Reflect Selected Options
Choosing between these two high quality surfaces can be tough. EVS Surfaces are made for projecting with lights on. The EganBoard is the high quality porcelain steel in bright white.
Customer Reviews:
Be the first to review this product.


Write a Review »
Have Questions?

Egan Markerboards feature EVS Write surface or EganBoard Porcelain framed in aluminum eased-curve or precision square mitered corners. Guaranteed-to-clean and never warp. EVS Projection
Wall Mounted Whiteboards
are available in formats ideal for projection. When ordering, it is important to note that EVS and EganBoard Porcelain are designed with slightly different shades of white. When installed side-by-side, the difference in hue is noticeable.
Choose between EVS Write or EganBoard Porcelain. Both writing surfaces are magnet compatible.
Select a curved frame or a square frame.
Choose from a variety of different available sizes.
Choose a wall mount bracket, a top bracket, or a system mount.
Pick your options: a full length tray is available and a permagrid (2" grid pattern on board) is available on smaller EganBoard Porcelain boards.
Ships with a Clear Anodized frame, mounting bracket (as specified), an EganCloth, 16"W x 1-5/8"D Plastic Marker Tray that slides over the aluminum frame, and red, green, brown, and black markers.
This item can be customized in many ways beyond the options listed on this page, please call for more information.
ATTENTION: Please note that Egan products may not be returned unless defective.
You May Also Like
For your reference:
This item is also sometimes listed under the following manufacturer numbers
MDMB2436S, MDMB2436SY, MDMB2436T, MDMB2436TY, MDMB2436W, MDMB2436WY, MDMB4832S, MDMB4832SY, MDMB4832T, MDMB4832TY, MDMB4832W, MDMB4832WY, MDMB4836S, MDMB4836SY, MDMB4836T, MDMB4836TY, MDMB4836W, MDMB4836WY, MDMB4848S, MDMB4848SY, MDMB4848T, MDMB4848TY, MDMB4848W, MDMB4848WY, MDMB6048S, MDMB6048SY, MDMB6048T, MDMB6048TY, MDMB6048W, MDMB6048WY, MDMB7248W, MDMB7248WY, MDMB9648W, MDMB9648WY, MDMS2436S, MDMS2436SY, MDMS2436T, MDMS2436TY, MDMS2436W, MDMS2436WY, MDMS4832S, MDMS4832SY, MDMS4832T, MDMS4832TY, MDMS4832W, MDMS4832WY, MDMS4836S, MDMS4836SY, MDMS4836T, MDMS4836TY, MDMS4836W, MDMS4836WY, MDMS4848S, MDMS4848SY, MDMS4848T, MDMS4848TY, MDMS4848W, MDMS4848WY, MDMS6048S, MDMS6048SY, MDMS6048T
, MDMS6048TY, MDMS6048W, MDMS6048WY, MDMS7248W, MDMS7248WY, MDMS9648W, MDMS9648WY, MER2436S, MER2436SY, MER2436T, MER2436TY, MER2436W, MER2436WY, MER4832S, MER4832SY, MER4832T, MER4832TY, MER4832W, MER4832WY, MER4836S, MER4836SY, MER4836T, MER4836TY, MER4836W, MER4836WY, MER4848S, MER4848SY, MER4848T, MER4848TY, MER4848W, MER4848WY, MER6048S, MER6048SY, MER6048T, MER6048TY, MER6048W, MER6048WY, MER7248W, MER7248WY, MER9648W, MER9648WY, MES2436S, MES2436SY, MES2436T, MES2436TY, MES2436W, MES2436WY, MES4832S, MES4832SY, MES4832T, MES4832TY, MES4832W, MES4832WY, MES4836S, MES4836SY, MES4836T, MES4836TY, MES4836W, MES4836WY, MES4848S, MES4848SY, MES4848T, MES4848TY, MES4848W, MES4848WY, MES6048S, MES6048SY, MES6048T, MES6048TY, MES6048W, MES6048WY, MES7248W, MES7248WY, MES9648W, MES9648WY
...
Show All