Black Framed 30-Ball Display Case with MLB Team Logo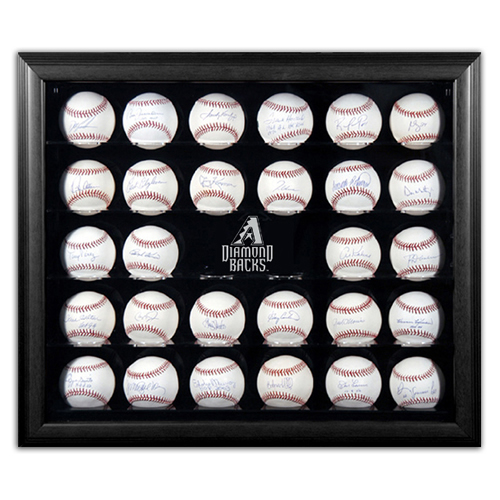 Customer Reviews:
Be the first to review this product.


Write a Review »
Have Questions?

The perfect display for showcasing your prize collection. The logo display case framed in a black step frame holds 30 baseballs. It features 5 individual shelves which each house 6 balls. This display is made of 1/8" thick acrylic. It is either wall mountable or sits on a shelf or countertop. The base and back of the display are black acrylic and the front, sides and top are clear acrylic. Made in America. Measures 22" x 4-1/2" x 25"
*Memorabilia sold separately
Comes engraved with your favorite teams logo
Framed in a black step frame
Holds 30 baseballs
Features 5 individual shelves which each house 6 balls
Display is made of 1/8" thick acrylic
Wall mountable or sits on a shelf or countertop
Base and back of the display are black acrylic
Front, sides and top are clear acrylic
Made in America
Measures 22" x 4-1/2" x 25"
*Memorabilia sold separately
You May Also Like
For your reference:
This item is also sometimes listed under the following manufacturer numbers
DISP31ANGE, DISP31ASTR, DISP31ATHL, DISP31BLUE, DISP31BRAV, DISP31BREW, DISP31CARD, DISP31CUBS, DISP31DEVI, DISP31DIAM, DISP31DIAN, DISP31DODG, DISP31GIAN, DISP31INDI, DISP31MARI, DISP31MARL, DISP31METS, DISP31MLB, DISP31NATI, DISP31ORIO, DISP31PADR, DISP31PHIL, DISP31PIRA, DISP31RANG, DISP31REDS, DISP31ROCK, DISP31ROYA, DISP31RSOX, DISP31TIGE, DISP31TWIN, DISP31WSOX, DISP31YANK, DISP31YANS