Basic Science Table with a ChemGuard™ Top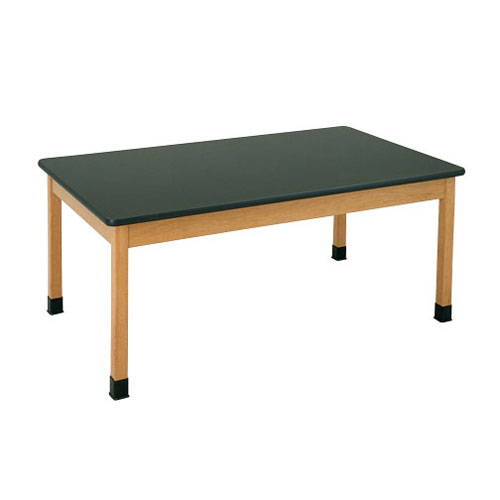 ChemGuard table tops ward off chemical and heat damage and resist normal classroom wear and tear
Customer Reviews:
Average Rating

5/5
1 out of 1 (100%) customers would recommend this product.
Have Questions?

These Science Tables feature our popular and affordable ChemGuard countertops which resist chemicals, heat, and regular classroom wear and tear. Table legs and sides are precision-cut and constructed from solid red oak, featuring a clear, chemical resistant finish. Choose from circular or rectangular shaped tops in a number of sizes for a stable, all-purpose work surface in your elementary or middle school science classroom.
Non-skid adjustable glides for a level work surface that won't rock on uneven floors
Black rubber leg boots for protection against scuffing and chemicals
Standard table height is 30"
Sides are made from solid red oak and are 13/16"D x 4-1/2"H with heavy-duty 13 gauge steel corner braces.
2-1/4" square solid oak legs (with 5/16" hanger bolts installed) are attached to sides with included nuts and washers.
You May Also Like
For your reference:
This item is also sometimes listed under the following manufacturer numbers
P7102K30N, P7102K34N, P7102K36N, P7102M30N, P7102M34N, P7102M36N, P7112K30L, P7112K34L, P7112K36L, P7122K30N, P7122K34N, P7122K36N, P7132K30N, P7132K34N, P7132K36N, P7142K30N, P7142K34N, P7142K36N, P7142M30N, P7142M34N, P7142M36N, P7152K30N, P7152K34N, P7152K36S, P7152M30N, P7152M34N, P7152M36S, P7162K30N, P7162K34N, P7162K36N, P7172K30N, P7172K34N, P7172K36N, P7182K30N, P7182K34N, P7182K36N, P7192K30N, P7192K34N, P7192K36N, P7202K30N, P7202K34N, P7202K36N, P7202M30N, P7202M34N, P7202M36N, P7212K30N, P7212K34N, P7212K36N, P7222K30N, P7222K34N, P7222K36N, P7232K30N, P7232K34N, P7232K36S, P7242K30N, P7242K34N, P7242K36S, P7302K30N, P7302K34N, P7302K36S, P7302M30N
, P7302M34N, P7302M36S, P7402K30L, P7402K34L, P7402K36S, P7482K30N, P7602K30N, P7602K34N, P7602K36N, P7602M30N, P7602M34N, P7602M36N, P7802K30L, P7802K34N, P7802K36L, P7902K30L, P7902K34L, P7902K36L
...
Show All