Advance Laptop Storage Cart
Da-Lite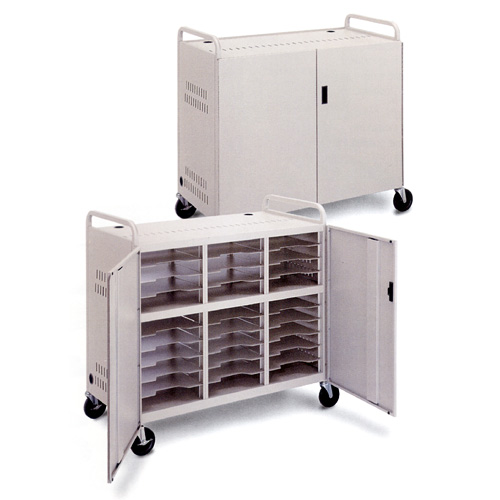 Product Info:
Comes with 5" casters.
Rear panel is removable to provide convenient access to electrical compartment.
Ships partially assembled.
The top shelf has a 1/2" lip on three sides for safety and supports a printer and server device.
Available with an optional 12 or 17 outlet electrical assembly for laptop recharging.
Laptop cell partitions can be removed individually for greater storage flexibility.
Electrical Assembly Strips

| | | | | |
| --- | --- | --- | --- | --- |
| Item # | Description | | Price | |
| 6316 | 12-Outlet (2 Recommended for 6300 Cart) | | $115.99 | |
Questions? Call us Toll Free: (800) 791-2946
Laptop Storage Carts

| | | | | |
| --- | --- | --- | --- | --- |
| Item # | Description | | Price | |
| 6300 | Advance Laptop Storage Cart - 20 Unit | | $979.99 | |
| 5100 | Advance Laptop Storage Cart - 30 Unit | | $1,107.99 | |
Questions? Call us Toll Free: (800) 791-2946