600 Series Lateral File Cabinets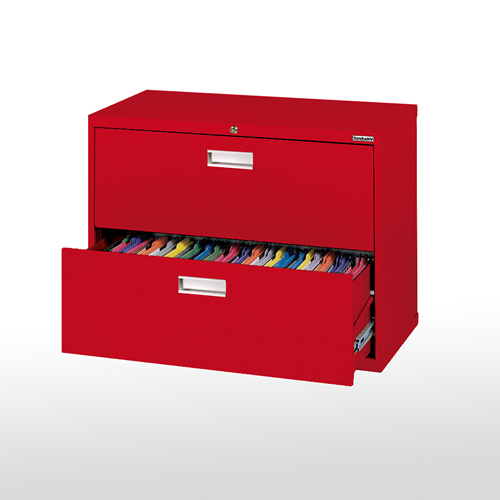 Customer Reviews:
Be the first to review this product.


Write a Review »
Have Questions?

Durable welded steel construction with full drawer extension on genuine progressive telescoping ball-bearing slides provide smooth, trouble-free operation. The 600 Series has built-in drawer interlock system prevents more than one drawer from opening at a time, reducing the change of cabinet tip over. Center lock securely locks with both sides of each drawer for positive security and two keys provided. Adjustable leg levelers keep cabinets level in any environment. These file cabinets come with extra deep drawers that accommodates letter or legal size files using side to side hanging rails. Powder coat finish and aluminum handles with steel reinforced drawer fronts. Rolled or hemmed edge drawer sides for strength, rigidity, safety and ANSI/BIFMA rated.
Product Information:

Available with 2-5 drawers
Full drawer extention and built-in drawer interlock system
Center lock securely locks both sides of each drawer
Adjustable leg levelers and extra deep drawer
Powder coat finish and aluminum handles
ANSI/BIFMA Rated
You May Also Like
For your reference:
This item is also sometimes listed under the following manufacturer numbers
LF6A362-01, LF6A362-02, LF6A362-03, LF6A362-04, LF6A362-05, LF6A362-06, LF6A362-07, LF6A362-08, LF6A362-09, LF6A362-22, LF6A362-22M, LF6A362-A6, LF6A362-EY, LF6A362-MG, LF6A363-01, LF6A363-02, LF6A363-03, LF6A363-04, LF6A363-05, LF6A363-06, LF6A363-07, LF6A363-08, LF6A363-09, LF6A363-22, LF6A363-22M, LF6A363-A6, LF6A363-EY, LF6A363-MG, LF6A364-01, LF6A364-02, LF6A364-03, LF6A364-04, LF6A364-05, LF6A364-06, LF6A364-07, LF6A364-08, LF6A364-09, LF6A364-22, LF6A364-22M, LF6A364-A6, LF6A364-EY, LF6A364-MG, LF6A365-01, LF6A365-02, LF6A365-03, LF6A365-04, LF6A365-05, LF6A365-06, LF6A365-07, LF6A365-08, LF6A365-09, LF6A365-22, LF6A365-A6, LF6A365-EY, LF6A365-MG, LF6A423-01, LF6A423-02, LF6A423-03, LF6A423-04, LF6A423-05, LF6A423-06
, LF6A423-07, LF6A423-08, LF6A423-09, LF6A423-22, LF6A423-22M, LF6A423-A6, LF6A423-EY, LF6A423-MG, LF6A424-01, LF6A424-02, LF6A424-03, LF6A424-04, LF6A424-05, LF6A424-06, LF6A424-07, LF6A424-08, LF6A424-09, LF6A424-22, LF6A424-22M, LF6A424-A6, LF6A424-EY, LF6A424-MG, LF6A425-01, LF6A425-02, LF6A425-03, LF6A425-04, LF6A425-05, LF6A425-06, LF6A425-07, LF6A425-08, LF6A425-09, LF6A425-22, LF6A425-22M, LF6A425-A6, LF6A425-EY, LF6A425-MG
...
Show All